B.A.D. Girls!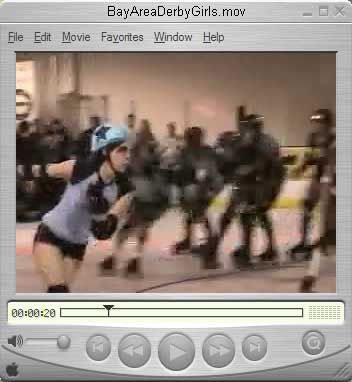 The
Bay Area Derby Girls
are our local all-girl flat track roller derby club. The two original teams, the Oakland Outlaws and the S.F. ShEvil Dead, recently welcomed two new teams, the Alcatraz Escapees and the Treasure Island Gold Diggers. This was shot at the newbies' first exhibition bout.
Modern roller derby, for those of you unfamiliar, is like a cross between a relay race, rugby, and a burlesque. Unlike 70's roller derby, the bouts aren't choreographed, so all the bumps and crashes are teeth-jarringly real.
I've been to other B.A.D. Girl bouts, and they have all been totally sweet.. Check
their website
for upcoming events, or, if you're of the XX persuasion, consider signing up.
The music is "Anything Goes" as sung by Ramona Davies, from a remarkably well-preserved 78 in the public domain, available at
the internet archive
.